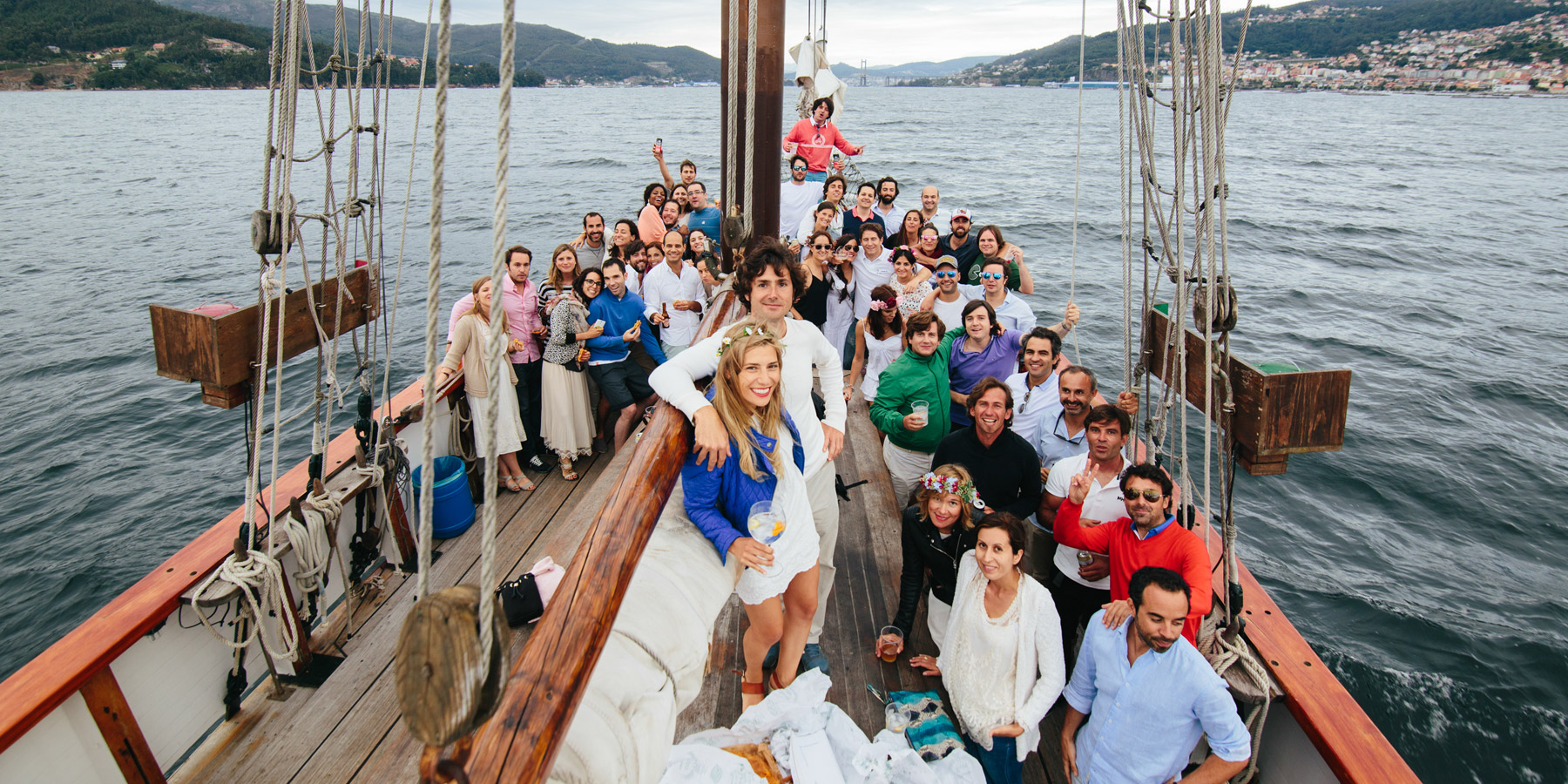 XIANA & HERNÁN
"Full speed, straight ahead"
Bueu, Galice
It is moving to find out your brother is getting married, but if you are going to cover the wedding it is overwhelming. My first thought was: my god, I' m taking his pictures! And I wondered if I would be able to enjoy the celebration as well. But there was no time for thinking; we had to do all the arrangements for the wedding!
After I got over the first shock I felt very excited, and many ideas rushed to my head willing to contribute with my knowledge to do the best wedding ever. We had the best help we could have had: my mother. Who far from becoming hysterical as Jane Fonda in "The mother of the groom", she did a great job getting us all dressed by "Oh qué luna", from the bride, her sister and mother to all my sisters and I. She also prepared some surprises for the bride and groom that made us all cry.
"El Pazo de Ouril", where the celebration took place, is in itself a magical space; it is the country house of my grandparents. My family and I have spent many summers, Christmas and holidays there. Although it was a wedding with 300 hundred guests we were able to keep it intimate, and very much like Hernán and Xiana. My brother arrived to the ceremony on our boat, "The black pearl", as could not have been otherwise.
They brought their dog along, "Ron" who took part of the wedding too. Xiana walked into the ceremony with the soundtrack of "Wind" playing, and they both left on my grandparent's tractor with "Pirates of the Caribbean" playing. The wedding cake was a boat shape cake. When dawn arrived every guest was looking for the right spot to take a rest.
Everybody at the wedding loved them dearly. Love was in the air. Friends and family proud of being part of their life, and wanting to celebrate with them the greatest party ever, happening in that part of the world. Long live Hernán and Xiana! I would do it all over again if I could! I love you brother!